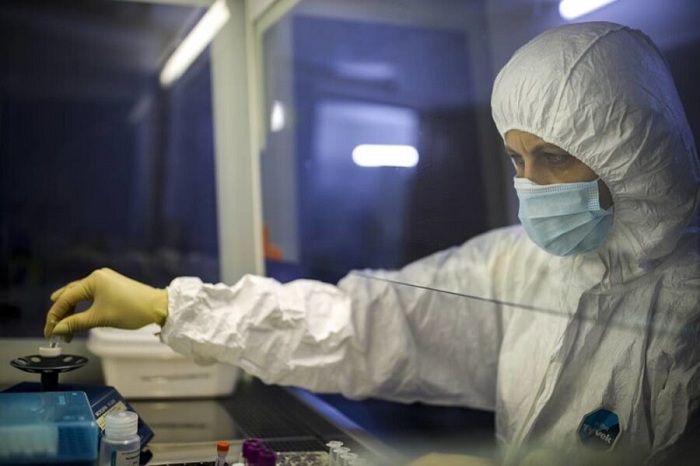 A medical staffer works with test systems for the diagnosis of coronavirus, at the Krasnodar Center for Hygiene and Epidemiology microbiology lab in Krasnodar, Russia, Tuesday, Feb. 4, 2020. Russia has closed its land border with China and suspended most train traffic between the countries. (AP Photo)
Бүтэһик сууккаҕа Саха сиригэр 85 киһи коронавируска сутулунна диэн СӨ Доруобуйа харыстабылыгар миниистирэ Елена Борисова бүгүҥҥү брифиҥҥэ иһитиннэрдэ.
Кини бэлиэтииринэн, дойду үрдүнэн ыарыыга сутуллуу элбээбит. Ордук оҕолор, устудьуоннар уонна саастаах дьон ыалдьар эбит.
Ааспыт сууккаҕа Дьокуускайга 50 киһи ыалдьыбыт. Улуустарга:
— Мэҥэ Хаҥаласка — 9 киһи;
— Алдаҥҥа — 4 киһи;
— Намҥа, Сунтаарга, Чурапчыга — 3-түү киһи;
— Тааттаҕа, Томпоҕо — 2-лии киһи;
— Үөһээ Халымаҕа, Бүлүүгэ, Горнайга, Мииринэйгэ, Нерюнгригэ, Өлөөҥҥө, Уус Алдаҥҥа, Хаҥаласка — 1-дии киһи ыалдьыбыта биллибит.
Өрөбүл күҥҥэ өрөспүүбүлүкэ лабораториялара 1070, пандемия саҕаланыаҕыттан 1 046 596 анаалыһы чиничйбиттэр.