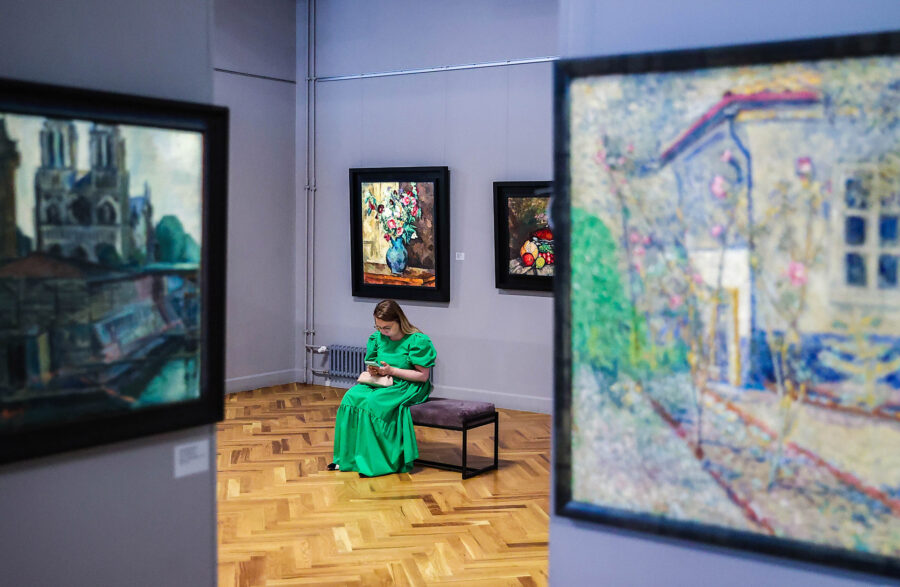 YEKATERINBURG, RUSSIA - AUGUST 3, 2022: A woman visits a Russian avant-garde exhibition titled "The Great Transition" and previewed at the Hermitage-Ural Cultural and Educational Centre. It features a collection of 63 paintings by more than 50 world-renowned as well as little-known artists that the Yekaterinburg Museum of Fine Arts received from the State Museum Fund in 1920. Donat Sorokin/TASS Россия. Екатеринбург. Посетительница во время пресс-показа выставки русского авангарда "Великий переход" в центре "Эрмитаж Урал". В экспозицию вошли шестьдесят три произведения более пятидесяти как всемирно известных художников, так и малоизвестных авторов, чьи работы попали в музей в 1920-м году из Государственного музейного фонда. Донат Сорокин/ТАСС
Арассыыйа 6 мөлүйүөҥҥэ тиийэ 14-22 саастаах олохтооҕо Пушкинскай каартаны ылла диэн Объясняем.рф саайтка тустаах бырагыраама салайааччыта Александр Минаев иһитиннэрбит.
«Бүгүҥҥү күҥҥэ, үөрүүнү кытта, бүтүн Арассыыйа үрдүнэн 6 мөлүйүөнтэн тахса ыччакка Пушкинскай каарта баарын иһитиннэрэбин. Биһиги кэтээн көрүүбүтүнэн, бу каартаны Арассыыйа 14-22 саастаах дьонун уопсай ахсааныттан аҥаара туһанар эбит», — диэн салайааччы этэр.
Минаев бэлиэтииринэн, күннэтэ дойду үрдүнэн Пушкинскай каартанан сылдьарга 25 тыһыынча тэрээһин буолар. Ыччат ордук сөбүлээн киинэҕэ сылдьар эбит.
Киин куораттар ыччата каарта өҥөтүнэн туһанан Третьяковскай галереяҕа, «Федерация» башняҕа, Эрмитажка, Исаакиевскай соборга, Петергофка ордук элбэхтэ сылдьыбыттар.